Welcome to Pluspreorder, the premier Plus Size fashion megastore.
We promise shopping with us is a breeze! Here's how..
Step 1) SHOPPING
Browse the store. When you find something you like, choose your desired options (size and/or colour).
Step 1A) Then, click on the black 'ADD TO CART' button to add item to cart.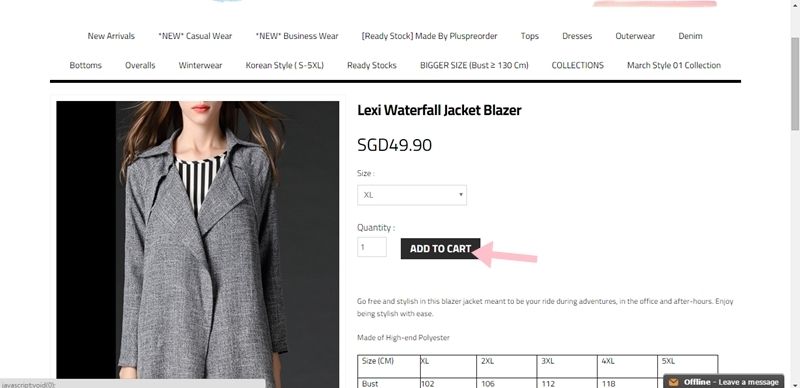 Step 1B) You will then be directed to your Shopping Cart directly. (See below image)
If you have finished shopping and are ready to check out, click on the black 'CHECKOUT' button.
If you would like to continue shopping and add more item(s) to cart, repeat Steps 1 to 1A. Then, When you are ready to check out, go to to your Shopping Cart at the top right hand corner of the page. (See image below). You will then see your shopping cart (See the above image). Click on the black 'CHECKOUT' button to checkout.

Step 2) ACCOUNT CREATION / LOGIN
After clicking the black CHECKOUT button you are directed to the Login/Signup page for an account on our store.
For those who already have an account with us, enter your Email and Password to login. You will then have a record of the order you are making in your customer account. Go on to Step 3.
For those who do not have a customer account with us, we recommend your creation of an account on our website for the ability to check past orders, the ability to check the status of your order (Payment received/ Shipped) and setting up your mailing address, so you don't have to repeatedly provide mailing information every single time you order.
Click on the SIGN UP button as highlighted to create an account with us.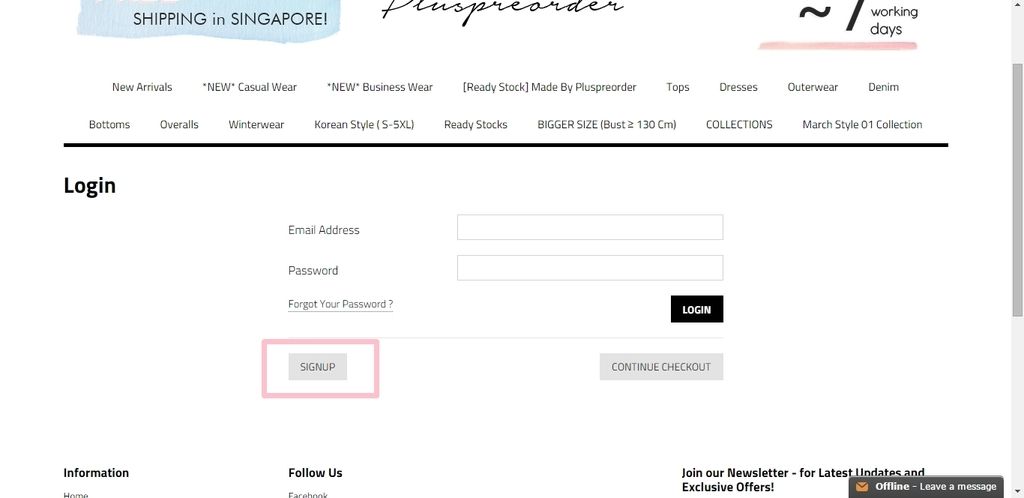 Complete the few simple information as below to set up an account with us.
Step 3) CHECKOUT
You will then be directed to the Checkout page, where you need to fill up three sections, namely the:
(1) BILLING AND SHIPPING ADDRESS section (You will not need to fill this up if you already have a customer account with us and have already set up your miling address information. All you need is to enter your email and password at the previous step.)
(2) SHIPPING METHOD
(3) PAYMENT METHOD
Choose between payment via Credit Card/ Debit Card or Bank Transfer(Only applicable for Singapore customers)
** International customers (Non-Singapore address), you will see your shipping costs at Step 2) Payment Method. (All international shipping costs are charged by weight.)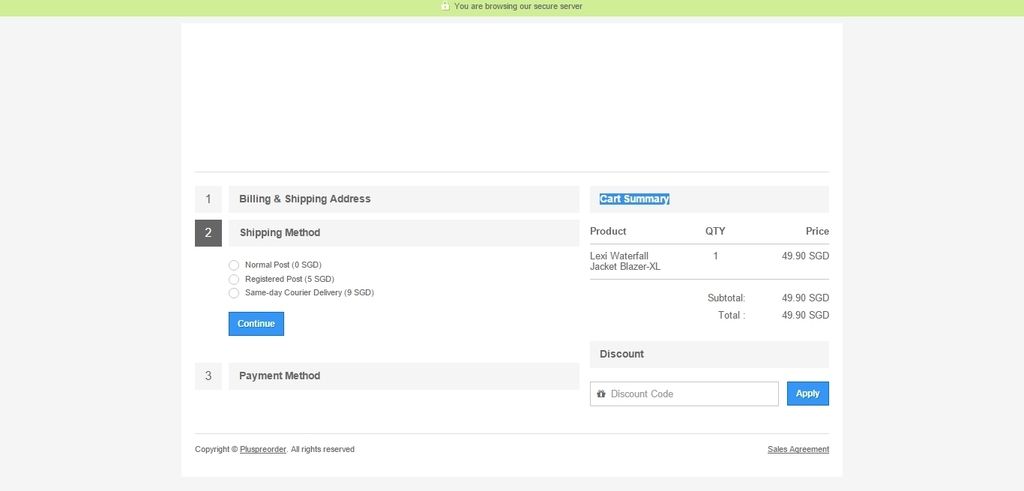 (4) ORDER CONFIRMATION
You will then receive an Order Confirmation email from us in your mailbox.
(5) ORDER PROCESSING
All orders in our store have an ~7 working days processing time from when payment for your order is made.
Delays, out of stocks and re-stocking situations are not frequent but possible. If this happens, we will contact you via email to ask for your instructions on your choice of alternative(s) or refund.
If there is no email notification from us, it means your order is processing successfully and will ship soon.
6) ORDER COMPLETION
When your order is shipped, a Shipped email notification will be sent to your email to notify you.
7) RECEIVE YOUR ORDER
Sit back, relax and wait for your order! If you share a photo of you in Pluspreorder clothing, we are giving you a limited time only $5 discount voucher for your next purchase! Send it in to us via email at pluspreorder@gmail.com and receive your voucher code!
Happy Shopping!
Questions? Email us at pluspreorder@gmail.com or chat with us on our chat widget at the right hand corner below!